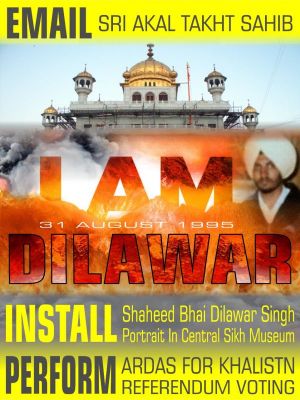 SFJ To Capt. Amarinder "BALLOT not BOMB Is Ready In 2022 Khalistan Referendum" - Launches "I Am DILAWAR" Campaign
SFJ To Capt. Amarinder "BALLOT not BOMB Is Ready In 2022 Khalistan Referendum" - Launches "I Am DILAWAR" Campaign
New York, August 28, 2021
Ahead of 26th martyrdom day of Shaheed Dilawar Singh secessionist group Sikhs For Justice (SFJ) launched the email campaign "I Am Dilawar" urging Jathedar of Sri Akal Takht Sahib to " INSTALL life size portrait of Shaheed Dilawar Singh at the Central Sikh Museum and on August 31st PERFORM Ardas for the Khalistan Referendum voting in Punjab".
SFJ'S newly crafted dedicated portal
www.iamDILAWAR.ca
launched from the Canadian cyber space facilitates the users to send a pre-drafted email to Giani Harpreet Singh in which Capt. Amarinder's regime is equated with slain CM Beant's genocidal rule to which Shaheed Dilawar Singh had put a halt by sacrificing his life.
In his video message, SFJ General Counsel Gurpatwant Singh Pannun stated that "By ordering arrests and torture of Referendum campaigners, Capt. Amarinder is following the footsteps of slain CM Beant. In 1995 Bhai Dilawar Singh used "BOMB" to stop Beant and in 2022 SFJ will use "BALLOT" to stop Capt. Amarinder".
SFJ urged youth of Punjab to reach Sri Akal Takht Sahib in great numbers on August 31st to participate in Ardas to commemorate 26th martyrdom day of Shaheed Dilawar Singh.
Issued by:
Gurpatwant Singh Pannun
General Counsel to SFJ